Scouring the SHOT Show 2011 booths, our staff was introduced to several low cost, American-made light products by Elzetta Designs of Lexington, Kentucky.  Product Engineer Bryan Marcum showed us light mounts for AR-15-style rifles and shotguns.
The first was the Elzetta ZFH1500, which attaches to the A2 front sight of a Black Rifle without the need for Picatinny rails.  The ambidextrous mount affixes a .70" to 1.05" diameter standard flashlight below the front sight and just ahead of the handguard, where the light's tail-cap switch is activated either by direct thumb pressure or pressure on the rifle's front sling mount.

The ZFH1500 is constructed of a sturdy polymer and comes in Matte Black, Dark Earth, and OD Green.  No light is included.  With an MSRP of $29.95, it is definitely a cost efficient way to get target illumination on your AR platform.
Marcum demonstrated their ZSM shotgun mount, which also holds a .70" to 1.05" diameter flashlight.   It clamps to the extended magazine tube of most standard pump-action or semi-automatic shotguns, as long as there is 1 3/4" of free space on the tube ahead of the end cap.
The Matte Black mount is ambidextrous and positions the light on either side of the gun.  MSRP: $39.95.
Elzetta markets some nice LED flashlights that we thought had some common sense designs and strong construction.  For more information, visit their website.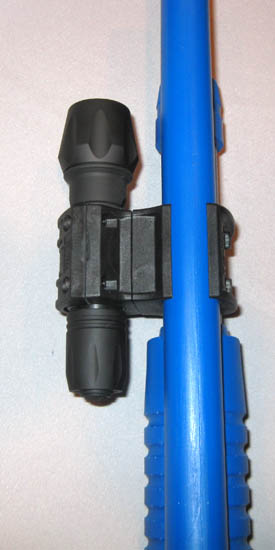 It has been my experience that Elzetta makes top notch flashlights and other products. The company keeps all design and manufacturing in the United States if that is important to you. Every interaction I have had with the company has been very courteous and professional. I am happy to spend my money with this company, and suggest you give them a look as well. And no, they are not an advertiser.
Stay safe!