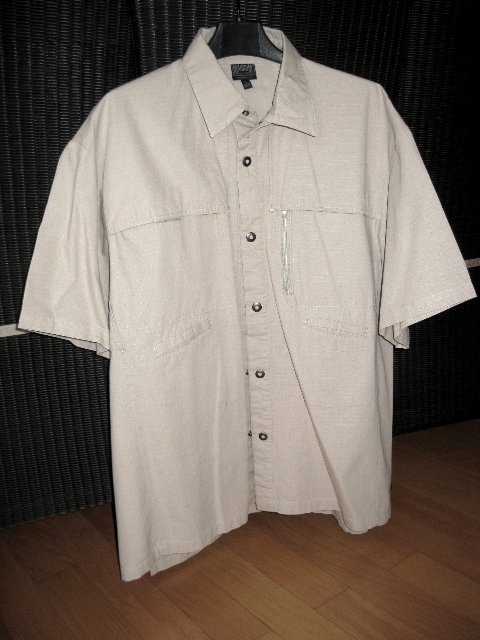 I have been wearing a Magnum RD short-sleeved shirt from the Magnum Boot Company that I think will interest you.  Magnum long ago branched out from boots and now makes an entire line of footwear, apparel, and accessories.
The shirt I am testing is a Desert Sage colored short-sleeved shirt fit for covert carry or regular off-duty wear.  The RD stands for "rapid deployment."  It is styled like any other high end sporting shirt you might find at a retailer, but it some great bonus features.
The 5.4 oz ripstop cotton material is a nice compromise, having both a light weight and durability.  I think this shirt can go from either hot to chilly temperatures without complaint from the wearer.
It is cut generously, which is terrific for concealed firearms carry.  It does not have a breakaway side, like some firearms-intended shirts, but that is a function I am not fond of anyway.
I think your covert draw stroke should be universal regardless of whether you are wearing a jacket, vest, sweatshirt, or regular shirt.  Consistent practice here is important.  The cut of the Magnum RD shirt is just fine.
The back, chest, and underarms of the shirt have mesh venting to let some of the steam out.  The shirt closes smartly with stylish metal snaps that have an expensive look.  The entire appearance of the garment says "safari" or "fishing" to me.
There are accessory pockets at the chest and waist on both front sides of the shirt.  The left chest pocket is about 6 ½" wide X 6 ½" high and is zippered vertically.  The right is around 7 ½" wide by 6 ½" high and zippers horizontally.
Two flapped slip pockets ride unobtrusively on each side of the upper front waist and each are about 5" deep.  Finally, there is a hidden pocket at the nape of the neck inside the collar that can hide currency or a cuff key.
Features of the Magnum RD shirt include:
5.4 oz. 100% cotton ripstop
ColorLock fabric dying process ensures garment color match
EEMS (Escape & Evasion Money Stash) pocket inside rear collar
Combat sharp collar design
RSCS (Rapid Shed Closure System) non-shine all buttons
MVBCS (Multi-Vented Body Cooling System) works with and without body armor (Patent Pending)
Vertical access Nelson pocket on left chest with low profile zipper
Drop stash pocket on right chest with low profile zipper
ACEP (Ab Concealed Equipment Pocket) on 2 sides
Notched side access points
6-Month No Fade Guarantee
Magnum style #90098
S, M, L, XL, 2XL, 3XL
Available in Black, Mocha, Desert Sage, and Navy
I like the styling, material, and construction used in Magnum's RD line of shirts.  They can be found online for between $45 and $55.
Randall is a twenty-four year sworn police officer in a mid-sized Florida police department.  He has been an FTO, K9 Handler, Detective, and SWAT Team Leader.  He is currently the K9 Unit Sergeant and department SWAT Coordinator.