Harris Publications is one of the largest magazine publishers in the world, producing over 75 various magazines ranging from health and beauty, to hip hop, to firearms. On April 29, 2016, Harris Publications suddenly closed their doors and announced they are going out of business. This means 85 full-time employees, and dozens of more part-time employees are out of a job. It also means some of the firearm industry's icon publications have come to an end.
You may not know the Harris Publications name, but if you are interested in the firearms industry you will most certainly know many of their firearm magazine publications. The end was swift, and came as a surprise to employees and the entire firearms industry. We'll analyze what this announcement means, and what the future of firearms marketing may look like now that almost every major firearm's magazine is gone.
The End of Harris Publications
Harris Publications was founded by well-known publisher Stanley Harris over 35 years ago, and quickly found popularity in a wide range of publications. Perhaps Harris' success was a wise business model that did not place an emphasis on only one category of the magazine, but instead sought to provide excellent products in a wide range of publications.
The sudden announcement was shocking and has left many talented writers, editors, and product managers looking for a job on short notice. Our very own Richard was a writer for several Harris Publications firearm magazines. Richard received an email from his editor on Thursday, April 28th announcing the end. Richard had no warning of the impending end and said it took him several times reading the email to understand the scope of the announcement. Richard originally believed was just about his publisher leaving, but then realized the entire company was folding.
Click here for a more in-depth reporting on the Harris Publications end, from Richard's personal perspective.
Chairman Stanley Harris said the decision was prompted by the struggle to drive newsstand sales. That statement from the founder is very telling.  When Harris began his business the printed media was king, and newsstands, stores, and mailed subscriptions drove the market. Printed material, something the reader could "get their hands on", was the absolute method of transferring media to the buying public.
Firearm Magazines
The following are a sampling of some of the most popular Harris Publications firearm-related magazines. These magazines were the staple of millions of firearm, law enforcement, and military consumers:
Combat Handguns
Guns & Weapons for Law Enforcement
Tactical Weapons
Pocket Pistols
Special Weapons for Military & Police
Survivor's Edge
Glock Annual Magazine
Ballistic.
Though I personally did not agree with the $8-12 price tag on individual newsstand magazines, I will miss having the wealth of information these magazines were able to produce on many of the most important and popular firearms and tactics.
Failure to Capture the Internet
About 15 years ago the internet began its incredible explosion into a colorful display of high-quality pictures, and a growing army of talented writers and editors. No longer was the internet a novelty of text-only productions. Advanced computers, word processing, and layout software, and higher speed internet servers completely turned the old publishing model on its head. Changes that could take weeks or even months to accomplish with printed media, could be accomplished in hours or days with computer-based internet programs.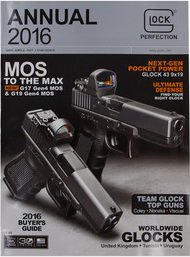 The "Millenials", or those who were once labeled "Generation Y" are those who have entered adulthood around the year 2000. This generation of Americans, estimated to be around 41 million strong, have known computers and the internet their entire formative years. This generation of Americans, like perhaps no other, was first-hand witnesses and consumers of the explosion of the internet and technological devices such as smartphones.
These younger consumers have a much different view of the world, and how they get information. They are much more electronically connected, even in some cases foregoing a traditional home computer for a more mobile tablet or even just a smartphone. The failure of many companies to recognize this monumental shift in the market has been a near-death toll.
Firearms and the Internet
As mentioned above, Harris Publications is not the only company to suffer the failure to capture the power of the internet. Though many firearm companies have acknowledged the need to have a company website, there are still very few that are aggressively advancing the economic potential of the new digital age.
In 2010 Richard invited me to assist him in reporting on SHOT Show, the largest firearms and related goods industry show in the world. My first experience walking onto the expansive floor at the Sands Expo Convention Center in Las Vegas, Nevada was overwhelming. It was difficult to comprehend the enormity of SHOT. With thousands of vendors from all over the world, it is really impossible to fully acknowledge every vendor's goods – even if you focus on only firearms.
However, as an internet media provider, it was amazing to see the scoffing and indignant stances that many of the largest firearm and related companies employees gave us as we seek to gain information on new products or do a review. This was in 2010! In fact, on more than one occasion Richard and I have overheard older executives mocking internet forums and internet media sites. Amazing! What a lost opportunity and remarkable oversight.
Final Thoughts
The new media is here, and it has been dominated by online, internet-based sources. Though printed materials may still have a place in certain circumstances, the power of the internet is only growing. The information is nearly instant from the moment the news is reported, and with vastly improved cameras and digital photography, the images are remarkably better than second-hand printed materials.
There is an enormous number of new media outlets, and many established publishers are making the transition into the digital format. Unfortunately for Harris Publications, the insistence on producing antiquated media formats appears to have ultimately led to their downfall. This is not good for firearms consumers, but it will create a powerful vacuum that will hopefully grow established and new internet media sources.
BlueSheepDog hopes to be one of those sources that benefit from the downfall of a media icon. We appreciate your readership and hope to provide many more years of excellent internet reporting.