Columbia River Knife & Tool (CRKT) has introduced the new Rakkasan fixed blade knife at SHOT Show 2017. Designed by military veteran Austin McGlaun, the Rakkasan is a very balanced multi-purpose knife, with contoured G10 grips that are both comfortable and intuitive for outstanding hand placement and hold.
CRKT came to SHOT Show 2017 with nearly 50 new knives and tools on display, and quite frankly blew the major knife competitors off of the showroom floor. These new designs are coming from an ever-increasing line of high-quality designers with backgrounds that vary as far as a knife user could imagine. The Rakkasan is an entry from CRKT's "Forged by War" series, where each designer is a military veteran. CRKT also expanded their Ruger licensed knives that we'll post on later.
What is a Rakkasan knife?
Based out of Columbus, Georgia, Austin McGlaun remained very close to his military roots. McGlaun served three combat tours for the U.S. military in Afghanistan, giving him a unique perspective of what a multi-purpose fixed blade knife should entail.
As a part of the Forged By War program, war veteran Austin McGlaun designed the Rakkasan™ in his Columbus, Georgia shop. The Rakkasan name comes from WWII Japanese soldiers remarking on the 187th Parachute Regiment's deployment in what the soldiers described as "umbrellas for falling." The Japanese troops were unfamiliar with this military tactic that took them by surprise, just as the Rakkasan will pleasantly surprise onlookers and users alike.
The Rakkasan™ takes on a very sleek profile with subtle, but attractive lines that draw both the eye and the hand of the user. McGlaun designed the Rakkasan as a mission-ready knife for his brothers and sisters still deployed in hostile foreign lands. With that in mind, you know he did not produce a knife that would fail in the harshest of conditions when life or death are on the line.
McGlaun states the Rakkasan is more universal than his previous designs, such as the extremely popular Clever Girl knife (another CRKT production). Designed to be a powerful self-defense knife, the Rakkasan is sturdy enough to also be a great utility knife. This opens up a wide range of uses, from cutting wood and rope to opening crates, boxes, or even MREs.
McGlaun chose SK5 Japanese steel for his Rakkasan, steel widely praised for its strength, durability, and ability to maintain an edge. Comparable to U.S. 1080 steel, SK5 steel is a very good balance of carbon and manganese and is considered a good selection for high-quality knives or tools.
In addition to a mission-ready utility knife, the Rakkasan comes with a durable, and long-lasting Kydex sheath as well. The sheath takes on a very concealable profile and is purpose-built with paracord or other tie strap rivet holes for mounting to packs, armor carriers, or belts.
Features
High-quality SK5 carbon steel blade
Drop point tip with a plain razor edge
Full tang construction
Black powder blade coating for corrosion protection
Contoured G10 handles
Kydex sheath with rivets and paracord attachments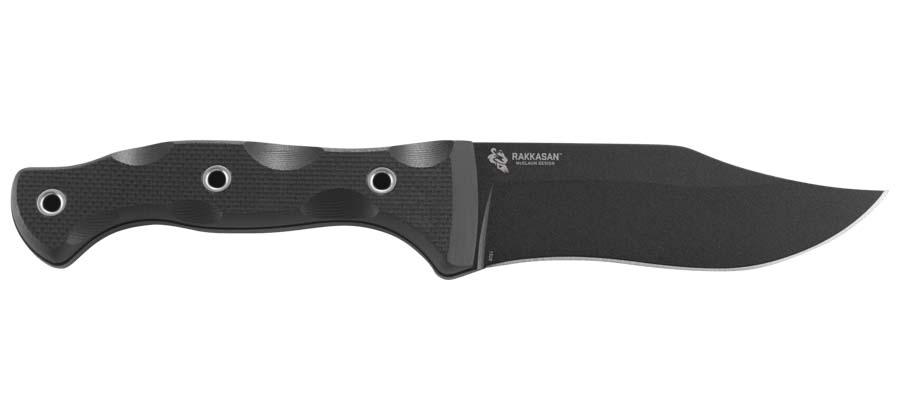 Specifications
Knife Style: Fixed blade with sheath
Blade Material: SK5 carbon steel, HRC 55-58
Blade Edge: Plain razor
Blade Thickness: 0.147 inches
Blade Finish: Black powder coated
Overall Length: 10.438 inches
Blade Length: 4.894 inches
Weight: 9.2 ounces
Handle Material: Contoured G10
Sheath Material: Black Kydex
MSRP: $125.00 (Currently less than $80 on Amazon)
Final Thoughts
It was an honor to get to talk to Austin McGlaun at SHOT Show. He is humble and friendly enough to be approachable but is clearly proud by his knife productions.  Last year McGlaun introduced his Clever Girl knife, which was one of the most popular CRKT knives of the year. McGlaun's war-time experiences are pretty obvious in his designs. In fact, when talking about the Clever Girl he bluntly stated,
There's no doubt what that knife is for; it's for stabbin' dudes.
With the Rakkasan, McGlaun sought to expand the versatility and work options for his knife. Bulking up the blade and handle, the Rakkasan can be used for chopping and prying actions in addition to all the traditional knife roles. The picture of McGlaun's original Rakkasan above clearly shows signs of extensive and heavy use. I really like the Rakkasan's simple format, that has been greatly enhanced with outstanding materials and strategic lines.
Overall I was very impressed with the Rakkasan. The contoured G10 grip really molded to my hands and provided an outstanding texture for grasping. The blade on the Rakkasan is stout and gives me a good deal of confidence to perform a wide range of jobs. If you are interested in purchasing this knife, Amazon currently has them for less than $80.