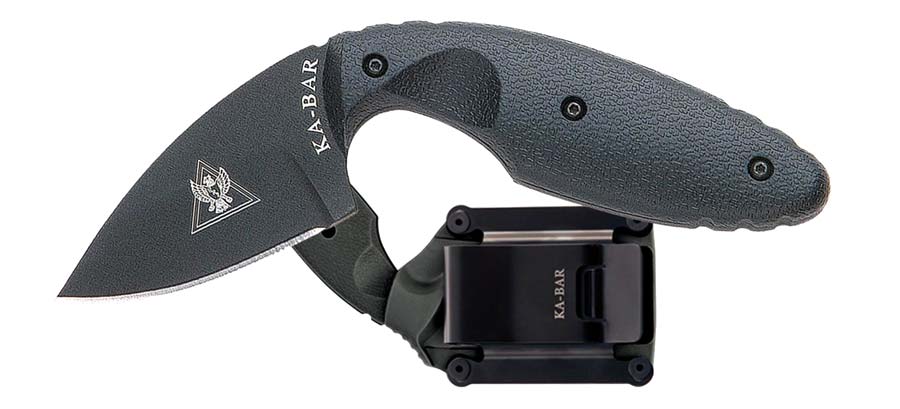 In my last installment of police knives, I went over some neck knife options.  One thing I am always concerned with in regard to on-duty carry of a knife is its retention.  Wearing a firearm daily ensures that any call can become a gunfight. After all, you brought the gun. At least the officer's sidearm is worn in a holster that has security features.  Not so with a blade.
This leads me to the KA-BAR TDI knife review.
The Original TDI
Manufactured by the famous Ka-Bar company, the Original TDI is a fixed blade knife with a pronounced curve to the blade and handle. Over the years, there have been several variations to the knife including smaller and larger models. Although I've had both larger and smaller versions, this review is based solely on the original version with a 2.3″ blade.
TDI is an acronym for Tactical Defense Institute, a law enforcement training facility in West Union, Ohio.  The TDI knife was designed by Vietnam veteran and thirty-seven year sworn police officer Lt. John Benner. Benner is the President and Chief Instructor of TDI.
I had a chance to meet Benner at the SHOT Show, and he seemed very knowledgeable about knives and defensive tactics. Benner explained the knife was designed as a lethal force tool to help officers defend against "gun grab" situations – disarming attempts. If the officer is fighting to retain control of his gun, the officer can draw this knife in a reverse grip with the support hand and attack the suspect's face, throat, arms or other targets of opportunity.
Likewise, Benner stated there are situations when an officer may be grappling with a suspect and lethal force is a legal option. In these cases – such as a suspect strangling the officer – the officer may not be able to reach his primary sidearm. However, the TDI knife may be positioned for an easy draw to stop the suspect's attempted murder of the officer.
Specifications
| | |
| --- | --- |
| overall length | 5.625" |
| blade length | 2.313" |
| thickness of blade | 0.125" |
| blade width | 1.25" |
| grind | hollow |
| shape | drop point |
| blade hardness | 57-59 CR |
| handle material | Zytel |
| weight | 3.2 oz |
Officer Safety Problem?
My critique of the TDI knife is in no way meant to detract from the distinguished career or training concepts of Mr. Benner.
In early 2010, I purchased a TDI and wore it threaded in my under-belt and behind the double magazine pouch of my duty rig, the TDI's recommended location.  It was fairly unobtrusive, but noticeable none-the-less.  The more I wore it, the more self-conscious I became about its handle sticking forward.  I tried it in the reverse, but it still felt exposed.
It reminded me of the old cross-draw revolver holsters the Florida Highway Patrol troopers wore in the 1970s.  FHP's holster rational at the time was that they transported prisoners in uncaged cars with the bad guys in the front passenger seat.  Naturally, a right-hander would want his firearm away from his handcuffed rider.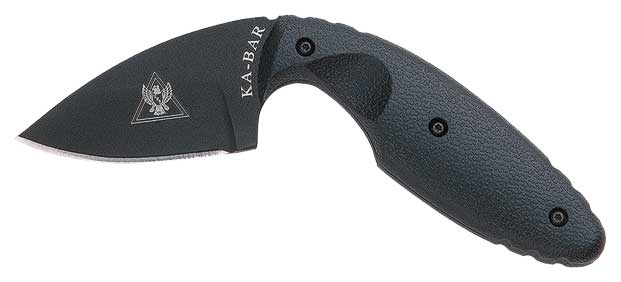 Despite FHP's good reasoning, that big Colt revolver's wood grip jutting forward fairly begged to be grabbed by a perp. Sadly, it sometimes was.  I began to feel the same way about my TDI.  Thus, it went into the box of things I didn't feel safe with on duty.
Then I read a news story.  On 12/24/2010, Austin, TX Police Officer Frank Wilson became involved in a foot chase with suspect Maurice Pierce.  According to Austin Police Assistant Chief David Carter, during a struggle, Pierce grabbed a knife from Ofc. Wilson's duty belt and stabbed Wilson in the neck.
Though suffering life-threatening injuries, Wilson remained in the fight and shot Pierce during the attack.  Wilson survived, but Pierce was found dead several blocks away.  Because of this incident, Austin PD revised its duty knife policy to only allow officers to carry folding knives in a case on the belt or "secreted on their persons," according to APD Commander Brian Manley.
I do not know what kind of knife Ofc. Wilson was carrying.  The circumstances and policy revision would indicate a sheath-mounted fixed blade.  I do know that I feel that having a knife's handle readily accessible to a suspect is the kind of officer safety I do not practice.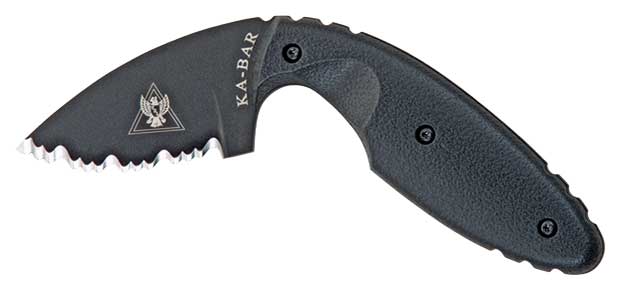 Since reading about Officer Wilson, I have gone back to pocket carry of a folder and boot carry of a small fixed blade.  Additionally, I have related the story of Ofc. Wilson to the officers I noticed wearing a TDI knife on duty.  I leave it to them to decide how they feel about its carry.
Final Thoughts
The TDI knife is an excellent quality blade and may be suitable for your needs. If you are not careful, that ease of use can be applied against you.
It is my opinion that this singular shortcoming could be fixed if the sheath had some sort of simple retention device similar to those used on handgun security holsters.  It may increase the price a bit, but it would be well worth it. A rotating hood or a push-button could go a long way to making this a premier choice for law enforcement use.
We recommend the knife as a defensive tool but urge caution. Carefully consider how and where you will carry it. Click the photos below to see the different versions that are currently available to you. There are options with serrated blades as well as smaller versions suitable for neck carry or other deep cover concealment.