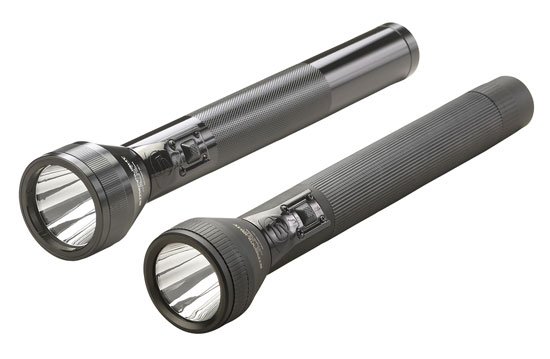 The Streamlight SL-20 was one of two options when I was looking to buy a quality flashlight when I first entered police work some 14 years ago (the other being the MagCharger).  For me, the Streamlight was a much better choice than the MagCharger, as I preferred the  pre-focused beam, lighter weight and charging sleeve the SL-20 offered.
However, as technology advanced, the SL-20 didn't seem to hold its own.  For the past five years, I don't even carry it in the car any more.  Lighter weight, brighter flashlights, specifically the Streamlight Strion LED and the SECUTOR PEL-6, now ride full-time on my duty belt.  I've longed for a brighter version of the SL-20, but have been disappointed…until now.
Streamlight officially introduced the SL-20L at the 2012 SHOT Show.  The SL-20L is a new version of the classic light that utilizes the powerful C4 LED lights found in Streamlight's other hi-power flashlights.  Here's how it breaks down:
In high-power mode, the SL-20L offers 350 lumens and 60,000 candela peak beam intensity for a usable beam of light good to about 490 meters.  Nice.
Like the SL-20, the SL-20L uses a rechargeable battery.  In high-power mode, Streamlight states you can expect about two hours of runtime.  Lower output levels can extend run time to 50 hours.  The SL-20L uses the same charging system as the original lights, so no need to upgrade to all new chargers.  This can be a real cost savings.
The new SL-20L has an aluminum body, but can also be had with a polymer body in the SL-20LP.
I don't have a new SL-20L yet, but I hope to get one soon and run it through its paces.  The small lights are great, but I have always liked having a longer light that I can easily tuck under my arm during a traffic stop, or to use as an improvised impact weapon.