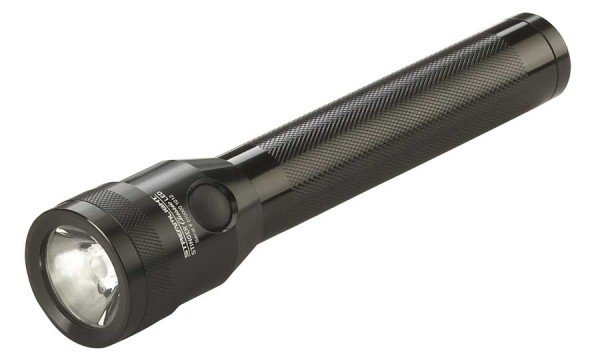 Streamlight announced the re-introduction of the original Stinger flashlight with a all-new LED head.  This updated flashlight, called the Stinger Classic LED, is very bright, offering 390 lumens and 13,200 candela on the high level.
By way of comparison, the incredibly bright ProTac HL that I previously reviewed throws 600 lumens and 16,000 candela.  So, the new Stinger Classic LED will be slightly dimmer (390 lumens is still extremely bright) but will be rechargeable unlike the CR123 driven ProTac HL.
Run time on high is one hour and 45 minutes.  Lower brightness modes are available, and will correspondingly raise run times.
Streamlight participates in the voluntary IPX4 standards, so the light output measurements are accurate, not some pie-in-the-sky marketing numbers.  Following the same standards, the flashlight is water and impact resistant.
MSRP will be $205, which will likely include the charger.  If you have an older Stinger (I know I do,) the new LED version will fit in the old charger.  Seriously – thank you Streamlight for doing that across all of your lines.  That save a lot of cops money!
I'm setting up a meeting with Streamlight at the SHOT Show in a couple of weeks.  I will have photos and more details then.
From Streamlight:
Streamlight® Inc., a leading provider of high-performance lighting and weapon light/laser sighting devices, introduced the Stinger® Classic LED, a rechargeable flashlight that is similar in size, shape and feel to the original Xenon Stinger®, but that also features an extremely powerful LED.

"The Stinger Classic LED is an update to the standard flashlight used by law enforcement and other professionals the world over," said Streamlight President and Chief Executive Officer Ray Sharrah.  "It was designed in response to customers who appreciate the compact size and simpler functionality of the original Xenon Stinger model, but who also want the advantages of the latest in LED technology."

The updated model offers three microprocessor-controlled variable intensity modes and a strobe function.  It delivers 390 lumens and 13,200 candela peak beam intensity on the high setting, 210 lumens and 6,500 candela on medium, and 100 lumens and 3,100 candela on low.  Run times range from 6 hours and 45 minutes on low to 1 hour and 45 minutes on high.

The Stinger Classic LED features a C4® LED for extreme brightness that is impervious to shock with a 50,000 hour lifetime.  The light's custom optic design provides a smooth beam with optimal peripheral illumination.

The new light is available with either a 3-cell, 3.6 volt Ni-Cd or Ni-MH sub-C battery, both of which are rechargeable up to 1,000 times. Fabricated from 6000 series machined aircraft aluminum with an anodized finish, the Stinger Classic LED also includes a multi-function, push-button switch, designed for extremely long life.

The new light measures 7.65 inches in length and weighs only 11.1 ounces. It fits all existing Stinger series charger-holders.  The available steady charger fully recharges in 10 hours on 100 volt, 120 volt, 230 volt, or 240 volt AC or 12 volt DC.  A 2.5 hour fast charger and a PiggyBack® charger that allows for simultaneous charging of both the light and battery also are available.

The Stinger Classic LED is IPX4 rated for water-resistant operation and is impact resistance-tested to up one meter.

Available in black, the new light has an MSRP of $205.00 and comes with Streamlight's Limited Lifetime Warranty.