The decision of whether or not to pursue a bachelor's or a master's degree is a personal one. "You have to do it for yourself," advises Paulette Laubsch, DPA, Associate Professor at Fairleigh Dickinson University. FDU was established in 1942 and is New Jersey's largest private university with students worldwide.
As discussed in "Continuing Education for Law Enforcement – Part One," the benefits of obtaining a college degree are many, but they do not come easily. The time, effort and, likely, the money officers invest will be their own. In Part Two, Police and Security News examines how to make wise investments.
Where Should You Go to School?
Prospective students should do their homework, both on the school and the program they're interested in, says James Henderson, who chairs the College of Criminal Justice and Security at the University of Phoenix Southern California Campus. University of Phoenix, a private university offering courses online and at more than 100 locations nationwide, was founded in 1976 to provide working adults with higher education options at convenient class times.
"It's okay to ask questions," says Henderson, a former master police officer with the Palm Springs, CA, Police Department and a U.S. Army veteran. "Every school will have someone with whom you can inquire. Make an appointment with the enrollment advisor. Find out exactly what it will take to get a degree."
That is true whether prospective students will be learning online or in the classroom. Most importantly, he says, students should be confident and comfortable with the program and school they choose.
Charles Nemeth, J.D., Ph.D., LL.M, at John Jay College of Criminal Justice, suggests criminal justice and security professionals can begin by factoring out the Ivy League schools.
Elite universities generally do not offer criminal justice or security administration programs, explains Nemeth, Chair and Professor of Security, Fire and Emergency Management and Director of the Center for Private Security and Safety. Nemeth cautions the for-profits which are corrupt should be avoided. These "diploma mills" have aggressive recruiting, especially among veterans, says Nemeth, a father with two sons in the military. "They charge an extraordinary amount of money and their degrees have no pedigree or value over time," he continues. "People graduate from these for-profit institutions owing $100,000 to $200,000 and just as much at the graduate level. It borders on fraud and corruption."
While criminal justice and security professionals do not require a degree from Stanford or Harvard, Nemeth suggests they do require a degree from a reputable institution. He encourages criminal justice and security professionals to attend state universities or private colleges which are reasonably priced. Prospective students also should look for programs which fit what they want to do. Laubsch says the question to answer is really, "What do you want to do when you grow up?" and the answer, especially for those approaching retirement, may not be criminal justice.
Jeffrey Magers, Ed.D., Associate Professor in the Professional Studies Department, Law and Public Policy/Homeland Security/Criminal Justice, at the California University of Pennsylvania, says prospective students should look at the reputation which a school has specifically for their field of interest. CAL U, founded more than 160 years ago, is a member of the Pennsylvania State System of Higher Education. "It might be better to go to a less prestigious university which is highly regarded for that major," he says.
How Do You Know if a School Is Reputable?
Accreditation helps determine if a school is reputable and should be at the top of selection criteria, according to university representatives with whom Police and Security News spoke.
The Council for Higher Education Accreditation (CHEA) explains, "accreditation is review of the quality of higher education institutions and programs. Accreditation is a way that students know that an institution or program in the United States provides a quality education."
CHEA says that whether a college, university or program is accredited is important because:
Students who want federal (and sometimes state) grants and loans need to attend a college, university or program which is accredited.
Employers ask if a college, university or program is accredited before deciding to provide tuition assistance to current employees, evaluating the credentials of new employees or making a charitable contribution.
The federal government requires that a college, university or program be accredited in order to be eligible for federal grants and loans or other federal funds.
State governments require that a college, university or program be accredited when they make state funds available to students or institutions and when they allow students to sit for state licensure examinations in some professional fields.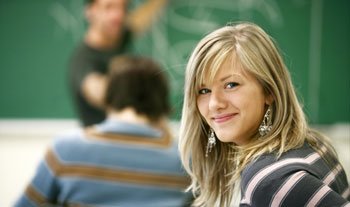 The "gold standard" of CHEA accreditation is regional accreditation, Magers says. He acknowledges, "That seems counterintuitive. You might think of national accreditation as the best, but it's not."
Magers notes some for-profit colleges and universities have been under considerable scrutiny from members of Congress who are questioning their practices, high tuition and low graduation rates. Some of these schools have not had regional accreditation, he points out.
It should be noted there also are national faith-related and career-related accrediting bodies and programmatic accrediting organizations recognized by CHEA. To view a complete list of CHEA and U.S. Department of Education recognized accrediting bodies, see www.chea.org/pdf/CHEA_USDE_AllAccred.pdf.
For most police officers, Magers advises, "Only look at institutions which are regionally accredited." Henderson says, "That's definitely important because you do not want to invest the time and money in a program or degree and later find out that it may not be recognized by employers."
To help people shopping for schools, various entities provide school rankings. Among the most popular is U.S. News and World Report's ranking of schools and online programs. See www.usnews.com/rankings.
The U.S. Department of Education in February released an interactive College Scorecard which helps students make smart decisions about where to enroll for higher education. The College Scorecard provides students and families with clear information through an interactive tool which lets them choose among any number of options based on their individual needs – including location, size, campus setting, and degree and major programs. Each Scorecard includes five key pieces of data about a college: costs, graduation rate, loan default rate, average amount borrowed, and employment. You can access a College Scorecard at whitehouse.gov/scorecard.
What Is the Cost?
Costs can vary greatly among schools. Officers who are interested in obtaining a degree should investigate the cost, says Jeff Kuhn, Associate Vice President, Public Safety Markets, at American Military University (AMU). AMU, a private online institution founded in 1991, is part of the regionally accredited American Public University System and offers a variety of public safety degree and certificate programs.
Generally, Kuhn says, the cost of obtaining a degree online will be less than obtaining a degree on campus. Kuhn adds that the average annual full-time cost of obtaining a bachelor's degree at AMU, including books and fees, totals only about $8,000, compared to nearly $10,000 at public, in-state schools and nearly $14,000 at other online institutions.
For a bachelor's degree, Nemeth says a $20,000 to $25,000 loan makes sense. At the graduate level, he says a $20,000 to $40,000 loan likely can be paid back quickly. "A graduate degree pays back almost a hundredfold over your lifetime," he says. "It's probably the best investment that a criminal justice or security practitioner could make because it helps an officer move up the ranks and gives officers more flexibility in their lives. We're finding that, in most major urban areas, you need a master's degree for any supervisory or managerial position in policing or security."
More policing functions are moving in the direction of privatization which means there's enormous opportunity for educated police officers, he adds.
"The corporate world has a different mind-set," he says. "It's not a civil step system, it's an entrepreneurial competitive system. If you want to get ahead, you've got to be well educated."
After working on the street for 20 years, many officers want to work with young people and impart their knowledge, Nemeth says. As someone who does the hiring for his department, Nemeth looks for adjunct professor candidates with master's degrees. Teaching part-time or at a community college or smaller school is another way a master's degree will pay off.
College Credits for Life Experiences
Officers may be able to lower their tuition cost by obtaining credit for life experiences. The National Center for Education Statistics defines credit for life experiences as credit earned by students for what they have learned through independent study, noncredit adult courses, work experience, portfolio demonstration, previous licensure or certification, or completion of other learning opportunities (military, government or professional).
Kuhn says, "Many schools, particularly in the online environment, are willing to give officers 15 to 30 credits which is traditionally a full year of college for completing basic training."  Someone who has taken military police training also may be eligible for about 30 credits, he says.
Those who have completed the FBI National Academy Associates' executive leadership management program and other programs like these can receive credit hours.
The American Council on Education publishes a guide to help universities equate life experience with college credit.
At John Jay, Nemeth says a faculty team following the guide conducts a relatively extensive review of students' experiences and will give students up to 21 credits. He says 12 to 15 credits is relatively common.
While the number of college credits given based on experience will vary from one university to another, Kuhn notes the Department of Education requires students to complete the last 25 percent of their course work at the school which confers their degree. If 120 credits are needed to complete an undergraduate degree, up to 90 credits could be transferred.
Police officers who have no college credits may want to consider starting at a community college which, typically, will be less expensive. "Community colleges have all age groups," Laubsch said. "It's not just kids anymore. They're a good place to get your feet wet and see how you do before you spend a lot of money."
Financial Help
Kuhn outlined several options officers might have available to help them pay for their education. "Probably the most desirable [option] is if their agency has a tuition reimbursement benefit," he said. "Some agencies offer partial reimbursement and pay a percentage of tuition."
Hiring and Retention of State and Local Law Enforcement Officers, 2008 – Statistical Tables published in October 2012, looks at tuition reimbursement as a recruitment incentive:
About one in two state law enforcement agencies offered college tuition reimbursement to new recruits in 2008, compared to one in four local police departments and one in eight sheriffs' offices.
A majority of local police departments with 25 or more officers used this incentive.
After looking first at possible agency benefits, police officers should look for opportunities outside their agency. Organizations such as the Fraternal Order of Police may have scholarships for which officers could apply. Kuhn says receiving a scholarship could help cover a course or two. At the state and local level, he says a police foundation or charitable group may be willing to help pay for education expenses.
Officers with military experience should see if they are eligible for VA benefits including scholarships, grants and even full tuition.
In addition to those options, officers can look at the financial options which are available to college students based on income and expenses. The U.S. Department of Education has several kinds of opportunities, including grants and low interest loans, for which students can apply. The Free Application for Federal Student Aid (FAFSA) is available at www.fafsa.ed.gov.
If officers belong to a credit union, they may be able to obtain a low interest education loan which is lower than, or the same as, the federal government loan's interest rate.
Many universities (via their Web site) will help students better understand costs and financial aid. For example, the University of Phoenix Web site has an online financial calculator.
Fast-track/Accelerated Degrees
Fast-track or accelerated degree programs allow students to complete their degrees in a shorter period of time. Accelerated bachelor's/master's degree programs may allow students to use graduate courses taken as an undergraduate toward both the undergraduate and graduate degrees. By doing so, the time required to complete both bachelor's and master's degrees is less.
Nemeth suggests fast-track programs work better at the graduate level. Traditionally, a master's which is earned in 24 months may instead be earned in 15 to 16 months. Instead of 15 weeks, courses might be eight weeks.
Online vs. Classroom
Online programs are becoming more and more popular, and schools are responding to the demand for accessible education. In an online environment, people think they can take a class and do the work when they want. "That's true," says Laubsch, who designs online courses, "however, they have to dedicate the time."
Laubsch says a rule of thumb is the time a student would otherwise spend in a classroom should be comparable to what a student dedicates to an online class. "Students have to be disciplined enough to do the work when it is expected to be done," she emphasizes.
Obtaining a degree from your own home provides many comforts. If students are unsure about how to answer a discussion question, Laubsch says the online environment affords them the time to research the answer before contributing to the discussion.
Yet, students do need to contribute. They can't hide from an instructor like they might be able to do in a classroom with lots of students. Online instructors can tell when students go online and how much they contribute to discussions. At Fairleigh
Dickinson, students might have 35 questions to respond to in a ten week period. They also must respond to others' answers. Typically, the school limits online classes to 25 students or fewer.
For the adult learner, the idea of going back to school can be intimidating. Not only might students be considerably younger, Kuhn says, they may not share the same values and ideals. The online option has made learning less intimidating in this regard.
Henderson says each person learns differently. While one person may need the flexible schedule of an online program, he says another might benefit more from the personal interaction in the classroom.
Magers tells prospective students looking for online opportunities to go with an established school with a campus. He says they should ask: How large are the class sizes? How often is the instructor engaged with students?
Some schools offer a blended degree with both online and classroom learning.
Other Considerations
Other considerations Magers suggests are:
Who's teaching the courses? At some universities, he says, professors tend to be engaged in research and delegate teaching to junior faculty and even teaching assistants.
What's the ratio of full-time to part-time instructors? "There's nothing wrong with adjuncts," he clarifies. "Every university uses them, but, at some, you could get an entire degree from part- time faculty and never end up taking a course from tenured faculty with more experience and expertise. Look for a university with a mixture of full-time professors and some adjuncts."
How are part-time instructors selected?  Typically, people who are doing what they are teaching are good teachers, he says.
Limited Enrollment
Some universities limit enrollment based on GPA, test scores and other criteria. While it's possible potential students will not be admitted to the schools of their choice, Magers says many undergraduate programs, especially those at smaller state universities, have open enrollment.
"If you graduated from an accredited high school, you're going to get accepted," he said. For graduate programs, it's going to take a 3.0 GPA and often a favorable GRE score.
"If the GPA is lower and the test score is lower, often what happens is students will be admitted conditionally," Magers said, noting this is especially true if they obtained a bachelor years ago and have done well professionally.
Beyond the Diploma
After graduation, career services may be important. What does the school offer? Does the school help its students find jobs? "Prospective students need to be good consumers and ask questions," Magers says. "Universities with good marketing skills are not necessarily the best universities. They might have a lot of glitz and glitter, and no substance. When you're spending a lot of money on a degree, you want to get something from it."
About the Author: Rebecca Kanable is a freelance writer specializing in law enforcement topics. She can be reached at kanable@charter.net.