Springfield Armory has released their new XD-E™ compact hammer-fired polymer pistol. In what appears to be a response to a somewhat growing inquiry by customers for enhanced hammer-fired pistols, the XD-E focus is clearly on "the hammer reinvented." In a market flooded with striker-fired, polymer framed pistols, it is kind of refreshing to see a classic design emerge with the highlights of engineering and design manufacturers have been displaying in recent years.
The XD-E features solidify its place in the concealed carry arena, or back-up handgun for on-duty use. Designed with a slim profile, polymer frame, and enhanced features, the Springfield XD-E should be a welcome option to any Springfield Armory fan or concealed carry customer. The new Springfield XD-E will have a slim profile polymer frame and stainless steel slide, providing the best of both worlds for weight and durability. The XD-E action is double-action/single action (DA/SA), with a de-cocking lever/safety on the rear of the frame. One of the main advantages the new XD-E advertises; however, is the reported 27% less energy required to manipulate the slide.
Springfield Armory XD-E
Springfield Armory is advertising the XD-E as capturing the best features of the XD® series of handguns and placing them into an intuitive, comfortable, and accurate hammer-fired handgun. In fact, as mentioned they call it "the hammer reinvented." One feature that many will quickly notice missing, is the grip safety lever. The XD-E opts for ambidextrous decocking lever safeties instead of the grip safety so common on Springfield Armory handguns.
We have some experience with both the [easyazon_link identifier="B00TTLT0NY" locale="US" tag="bluesheecom-20″]XD® series of Springfield pistols[/easyazon_link], and the newer XD-S model handguns. Both have proven to be very good designs, though the XD-S did have to have some modifications after initial release. The very slim and compact [easyazon_link identifier="B00UFELGJ0″ locale="US" tag="bluesheecom-20″]XD-S pistols[/easyazon_link] have proven to be very good designs that are very popular for the concealed carry crowd, and the XD-E appears to offer those same benefits in a hammer-fired action with some additional features.
Springfield Armory XD-E Features
Ambidextrous de-cocker safety levers
Ambidextrous magazine release buttons
Dual spring with full-length guide rod
[easyazon_link identifier="B000YJ2EO2″ locale="US" tag="bluesheecom-20″]Fiber optic front sight[/easyazon_link]
Hammer forged barrel
Forged steel slide
Polymer frame
Melonite® finish on major steel parts
Slim 1-inch width
Low-Effort Slide (L.E.S.)
GripZone™ textured grip
Loaded chamber indicator
Uses same magazines as XD-S series pistols.
The Springfield XD-E uses a double-action/single-action system, with a skeletonized hammer for firing. In double action (DA) the XD-E will have a longer and heavier trigger pull consistent with many striker-fired pistols on the market today. Once fired, the slide will automatically cock the hammer creating a single action (SA) trigger pull on the remainder of shots. The SA trigger pull is much lighter and shorter than the DA pull, and is more akin (and perhaps lighter) to a striker-fired action after trigger reset.
The Low Effort Slide (L.E.S.) is perhaps the key feature that stands out on the new XD-E. The L.E.S. is advertised to reduce the energy necessary to manipulate the slide by 27%. If this claim holds true, the new XD-E will be a very competitive concealed pistol. Easier slide manipulation can greatly assist shooters with smaller hands or weaker grips. If the mechanics have been engineered correctly, this reduced slide energy may even reduce common shooting failures, like failure-to-eject (FTE) or failure-to-fire (FTF).
The XD® series has been steadily improving features for several years now. Springfield's GripZone® handgrip creates a much nicer and comfortable grip designed to fit the shooter's hand like a handshake. Softer but still grippy textures run on both the front and rear grip surfaces to help secure the pistol during recoil. The palm takes on the smooth polymer surface of the rest of the frame making the grip very comfortable but functional as well. This is a much more user-friendly design than the original XD® series grips with their aggressive hard polymer squares. The improvements of the XD-E pistol grip cannot be understated, for both comfort and functionality during shooting.
Springfield's High-Hand™ beaver tail and trigger guard are specifically designed to enhance the shooter's control of the XD-E during firing, especially rapid-fire situations. The enlarged beavertail creates an improved surface to resist recoil on the web of the shooter's hand between the thumb and fore finger. The enlarged trigger guard still provides protection to the trigger, but also makes engaging the trigger for shooting much easier even when gloved.
Additional enhancements on the Springfield XD-E include newly sculpted grip angling advertised as Point and Shoot®. The top of the grip has been carefully machined to draw the shooter's hand inward and even closer to the pistol. This machine work should enhance the shooter's ability to get on the trigger and maintain a solid grip during shooting.
The XD-E comes with a sleek frame measuring only one-inch wide. The very narrow feature of this pistol provides excellent options for concealed or back-up carry. The XD-E uses a single-stack magazine, so some capacity is sacrificed to provide a much greater concealable profile. A very nice fiber optic front sight stands out against the combat-style white 2-dot rear sight. The rear sight is slightly angled in the front to prevent snagging, while not being so sloped downward to prevent slide manipulation on other surfaces in an emergency.
The Springfield XD-E will have (3) magazine options to fit individual shooter desires. The magazines are single stack and a combination of steel and polymer. The XD-E comes with (1) 8-round magazine with Grip X-tension™, and (1) 9-round magazine with [easyazon_link identifier="B01N12T6LK" locale="US" tag="bluesheecom-20″]Mag X-tension[/easyazon_link]™. There is also a flush magazine option available. The Grip X-tension simply lengthens the front side of the magazine providing greater grip while keeping capacity the same. The Mag X-tension magazine actually lengthens the entire magazine to provide an extra round of capacity.
Springfield Armory XD-E Specifications
Caliber: 9x19mm
Slide Material: Forged steel with Melonite® finish
Frame Material: Black polymer
Barrel Material: Hammer forged steel with Melonite® finish
Overall Length: 6.75 inches
Barrel Length: 3.3 inches, 1:10 rifling
Width: 1.0 inch
Height: 5.0 inches
Weight: 25.0 ounces (unloaded)
Sights: Fiber optic (front), low-profile 2-dot combat (rear)
MSRP: $519.00.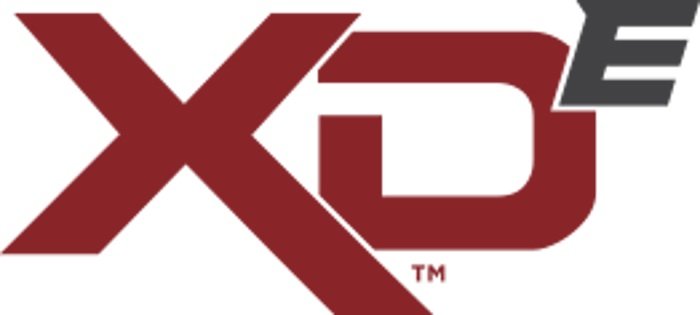 Final Thoughts
The Springfield Armory XD series pistols have been very good pistols overall. The XD-S series came out with great fanfare but then had some feeding issues that ultimately led to a safety recall in both [easyazon_link identifier="B001A4N47G" locale="US" tag="bluesheecom-20″]9mm[/easyazon_link] and .45 caliber. Though the XD-S series did have some problems, I have never experienced those problems myself. I will admit my experience is limited, but some have reported problems every (5) rounds or so, which I never personally experienced.
The new XD-E shows a lot of potential, especially for those who prefer a hammer-fired pistol over the striker-fired actions that have dominated the pistol market lately. I will go on record here though, that I am not a fan of the DA/SA configuration. I firmly believe the DA/SA design unnecessarily creates a hazardous condition for at least the first two shots.
The heavier and longer double-action (DA) trigger pull can, and often does, create a jerking motion for the shooter. This causes the first shot to go down and to the right or left (depending on which hand introduced more influence). Once the first shot is fired the slide automatically cocks the hammer providing a much lighter and shorter trigger pull for the remainder of shots (absent a de-cocking). The second shot can often come quicker than anticipated by the shooter, who has just experienced the heavier and longer DA trigger pull. This too can cause a bullet to go off course due to a lack of trigger control. That's the first two shots likely off target due to the DA/SA action.
In a self-defense situation this could be catastrophic. Not only could the threat be missed entirely, but innocent bystanders down range could be struck from an errant bullet. I would have preferred Springfield Armory to make this a DA-Only action, with a nice midpoint trigger pull in the 5.0 – 6.0 pound area. A consistent trigger, with a pull weight that provides safety and ease of operation, would have been a much better design in my opinion.